When someone is arrested for a crime in Arizona, they must be seen by a judge within 24 hours for a hearing that is called an initial appearance. At an initial appearance, the judge will:
Advise the arrested person of their Constitutional rights
Determine if the person is entitled to an appointed attorney
Set release conditions or bail
As important as this hearing is, many people are shocked by the fact that you do not have the right to an attorney to represent you at an initial appearance. Many people foolishly make statements to a judge without knowing that anything said can be used against them in the future. And when people open their mouths to a judge about release conditions, it usually works against them and they talk the judge into a higher bond than what the judge would have ordered.
Initial Appearances in Phoenix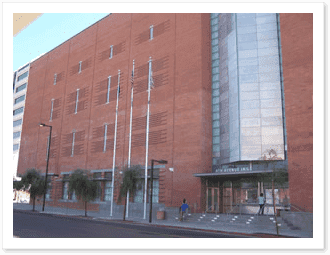 When someone is charged with a felony in Phoenix, they are almost always brought to the 4th Avenue Jail. The 4th Avenue Jail is currently the designated intake facility for the Maricopa County Sheriff's Office. After being interviewed by court personnel concerning their background, the judge reviews the report that is prepared along with a statement of probable cause that is filled out by the arresting officer. The judge uses this information in order to determine how much someone's bail will be or if they will simply be released.
In Phoenix, felony initial appearances are conducted 365 days a year at the following times:
8:00 a.m. / p.m.
11:00 a.m. / p.m.
2:00 a.m. / p.m.
5:00 a.m. / p.m.
When Can Someone Be Held Without Bail?
In Arizona, there are only a few circumstances where the law requires that someone be held without bail. They include arrests for:
A sex crime with a minor under 15 years-old (if there's sufficient evidence)
A felony committed while on release from another felony offense
Most probation violations
In all other cases, an accused is generally entitled to be released.
How We Can Help
While there is no right to have an attorney appointed for an initial appearance in Phoenix, you have every right to hire your own attorney for this hearing. By having a skilled Phoenix criminal defense attorney present with you at this hearing, you can present arguments to the court as to why you should be released on a very low bail or only on your promise to appear at a future court hearing. This is called being released on your own recognizance.
If you or someone you know has been arrested for a felony in Phoenix, you will have a very short window of time to hire a criminal defense lawyer for the initial appearance hearing. Because having someone present can make all the difference in the world, you should not wait to contact the Law Office of Jason D. Lamm if you want an experienced criminal defense attorney to provide representation at this important hearing. Please know that once the initial appearance is over, it can take weeks to get another judge to review release conditions. Time is of the essence.