I recently ran into a prosecutor with whom I previously have had cases. She remarked that she looked forward to working with me on a new high profile case involving sexual assault. I was puzzled as I heard nothing about the case, despite it being heavily covered in the media.
How did the prosecutor know that I would be hired as the criminal defense attorney? This wasn't a drug conspiracy case involving a wiretap, so no one could have been listening to my client's phone? Did this person say something in an interrogation with detectives? Did the prosecutor recommend me? Actually, this does happen as both prosecutors and judges have recommended me to family and close friends who have gotten into a jam. In any case, the prosecutor just smiled and said "you'll see."
Low and behold, I received a call from a gentleman who had been charged with sexual assault and practicing medicine without a license. Ok, this sounded kind of familiar, but when I met with the gentlemen, who did, in fact, become my client, he didn't know the prosecutor, no one in particular had recommended me, and it was pretty clear that this was not a drug conspiracy case.
Some time passed and I really didn't think about it anymore. I had a ton of work to do on this case. It was quite complex and there was lot of discovery to review.
The Moment of Truth
Amid my review of the discovery, I started going through hundreds of photos taken by police as evidence. I've learned that you need to look at each photo carefully. Because the "devil is often in the details," doing a hasty review can cause you to miss a big break or opportunity.
So when I went through the photographs of my client's business, my jaw about hit the ground when I came across the picture below.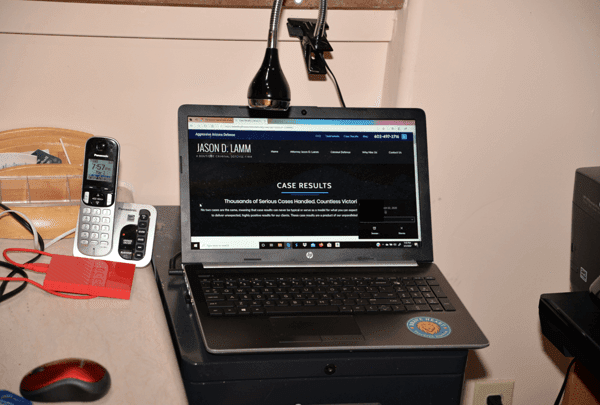 As it turns out, my client was looking at my website, in particular, my Recent Results page, when the police broke down the door and executed the search. Maybe he had a premonition that something was about to happen. Clearly, detectives thought it was funny enough to document what was on my client's laptop and to give the prosecutor a heads up as to who her adversary would likely be. It's good that we have a nice working relationship.
Irony and a touch of twisted comedy aside, the message from all of this is that if you think you are in trouble, NOW (not later) is the time to hire a criminal defense attorney. Often times I can get in front of situations and mitigate, if not eliminate them through pre-indictment representation. If an arrest is imminent, I can work with law enforcement to set up a self-surrender on very cordial and professional terms, sparing everyone the need to bring in SWAT teams, guns being pointed everywhere, and the general mess that comes with a felony arrest.
If you or someone you know is facing serious criminal charges, be proactive, and contact me. You don't have to wait until your door is broken down and police have searched your home so thoroughly that it can be featured on the covered of Junkyard Quarterly. Confidential consultations can be set up by calling (602) 663-9100.