A few short weeks ago, I wrote a post titled "When Social Media Becomes Ammunition in the Courtroom." Apparently, rapper 50 Cent does not subscribe to my blog, though he really should. It might have saved him a trip to federal prison for bankruptcy fraud.
50, known to his Mommy and quite possibly the Bureau of Prisons (in the future) as Curtis Jackson, recently filed for bankruptcy. As part of the bankruptcy process, he was required to list all assets and liabilities - under penalty of perjury. 50 must have missed that last part.
Amid his bankruptcy, 50 posted the following to his Instagram account--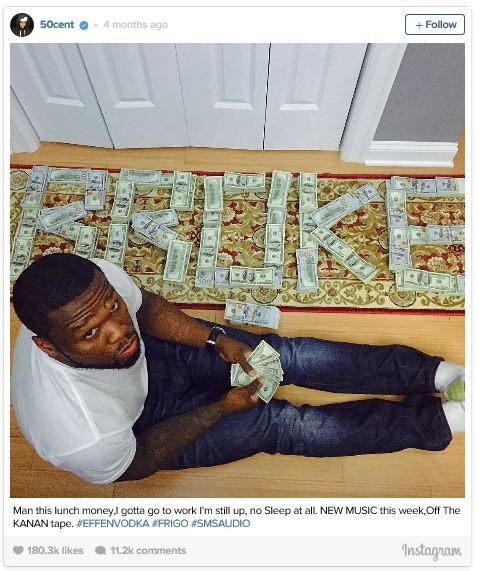 That was dumb, Curtis, really really dumb.
The judge presiding over 50's bankruptcy case didn't seem amused either as she has summoned him to appear in court to explain the stacks of cash which he likely failed to disclose as part of his bankruptcy petition.
What Is Bankruptcy Fraud?
Bankruptcy fraud is a white collar crime that normally occurs when the bankruptcy trustee detects some type of irregularity and submits the case to the United States Attorney's Office for review. It most typically occurs when a debtor:
Fails to disclose assets
Transfers assets to a third party to avoid the bankruptcy court liquidating those assets to pay debtors
Making a side deal with a creditor to give them preferential treatment without the knowledge of the bankruptcy court.
The Penalties for Bankruptcy Fraud
Bankruptcy fraud is a federal crime which carries the following consequences:
5 years in federal prison
$250,000 fine
Both
What's Next for 50?
The first thing 50 needs to do is go through his Instagram account and take down any pictures that are not, shall we say, befitting on a man who has asked a federal judge for debt relief. Posing with stacks of cash which spell out the word "BROKE" is something that he never should have done, and is something that he should never do again.
The next thing 50 should do is hire a criminal defense attorney who is experienced in defending white collar crimes. While Jason Lamm is based in Phoenix, Arizona, he has practiced around the country in different federal courts representing clients charged not only with white collar crimes, but also drug conspiracy and money laundering charges. You don't have to be a big rapper to hire Jason Lamm as your defense attorney, but you do have to have common sense. Stop posting on Instagram and contact a skilled Phoenix criminal defense lawyer at (602) 663-9100 to schedule a confidential consultation on your white collar case.