Back in elementary school, many of us learned the metric system. How much do I weigh in kilograms? How many liters of gas will it take to fill my tank?
But let's be honest, the metric system is about as useless in the United States as a car with a steering wheel on the right of the car. Still, the rest of the world embraces it and world of drugs is no different.
POUNDS OF WEED, KILOS OF COKE
With the legalization of marijuana taking hold across the country, less and less marijuana is imported from Mexico. Increasing amounts of high grade marijuana are grown not just in Northern California, but at legal (and illegal) grow operations around the country. Still, when it comes to distribution of marijuana for sale, every talks about pounds of weed and not kilograms.
If you've ever been part of a conspiracy to distribute cocaine (or even if you have not), you should be aware that those who deal cocaine do it in kilograms. While there is no definitive etiquette for cocaine dealers (Sorry Emily Post), most cocaine still comes from South America and is trafficked through Central America and Mexico into the United States. The fact that the cocaine originates in countries that use the metric system dictate the quantities in which it is sold.
THE FEDS STILL WANT US TO USE THE METRIC SYSTEM!
While the reality is that most Americans will never embrace the metric system, it doesn't mean the Uncle Sam is willing to let it go. When someone is convicted of a serious drug offense in federal court, they will be sentencing in accordance with the United States Sentencing Guidelines. The amount of a drug that someone is involved in trafficking or distributing places a big role in what their sentence will be.
What's interesting is that all drug weights (marijuana, cocaine, heroin, methamphetamine, etc.) are all calculated using the metric system. For example, the more kilograms of marijuana you have, the greater your sentence will be. There's no good reason why the Guidelines operate this way. Frankly, it seems somewhat un-American.
ARIZONA COURTS UTILIZE BOTH
In Arizona, when someone is charged with possession for sale, or transportation for sale, in the drug exceeds the threshold amount, the person must be sentenced to prison if convicted. The threshold amount of a drug is sometimes expressed in pounds, and sometimes it is expressed using the metric system. Take a look:

For any drug not listed, if the threshold amount is equivalent to $1000 worth of the drug.
POUNDS OR KILOS DON'T MATTER WHEN YOU NEED A CRIMINAL DEFENSE ATTORNEY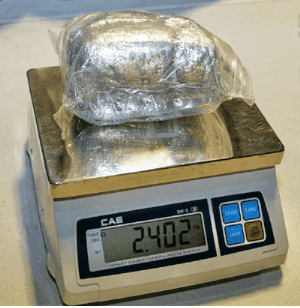 When you get arrested and charged in an Arizona State for Federal Court on drug trafficking charges, it really doesn't matter if it's pounds or kilos involved. What's important is hiring a criminal defense attorney who is both knowledgeable about Arizona drug laws, and also experienced and respected in the courtroom by both prosecutors and judges alike.
Call a Phoenix Criminal Defense Lawyer!
For more than 25 years, Jason Lamm has established himself as one of Arizona's most successful criminal defense attorney. He routinely defends clients charged with possession of marijuana for sale and conspiracy to distribute cocaine. His comprehensive and thorough approach has helped his clients gain their freedom in situations that many thought to be hopeless. If you or someone close to you is charged with a serious drug offense in Arizona, contact Jason at (602) 663-9100 to schedule a personal and confidential consultation.